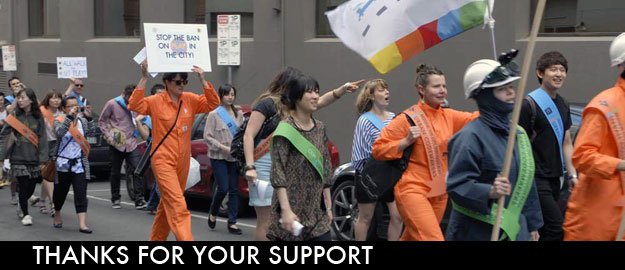 Thanks to everyone that showed their support last Saturday. With the forthcoming election, the Minister for Gaming is unable to comment on the proposed ban on play but we think that our message was heard.
The gathering at Guildford Lane quickly became a crowd. As one of the more vocal (the only vocal) Urban Codemakers began the rally the Master Codemaker spoke delivered a baroque text via a proxy that pointed to other motivations behind the proposed ban. Meanwhile the locative urbanist tweeted in the background whilst the crossmedia ecologist played in the laneway. We then commenced our march.
The march travelled from Guildford Lane down to the City Square via Melbourne Town Hall. Outside town hall the Urban Codemakers manifesto was read. Authorities blocked an attempt to post the document on the building itself. When the march reached the City Square all that participated were invited to play in the city as the Urban Code Make game was launched into action.
72 IDEOTAGs (see if you can spot the two in thea above image on the right) have been placed in and around Little Collins Street between Elizabeth and Russell Streets. Coded in orange, blue and green these tags are an initial set that mark the territory much like typical graffiti tagging. However, many have already been collected by players of the game – thereby activating and integrating those sites into our system…